Retail Revamp - Its Christmas time!
Retail Revamp - Its Christmas time!
Wednesday, 18 October 2017
6.00pm
Soul Food, Narromine
Council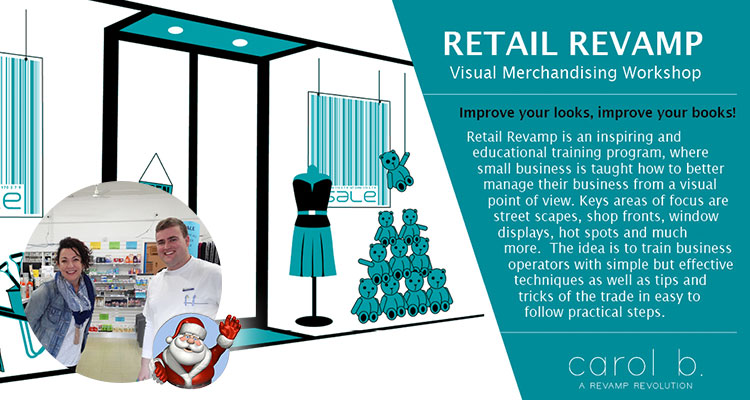 Too early? No it is never too early to get organised for a revamp of your window and shop displays in the lead up to Christmas in Narromine. Join Carol Bagaric to work through some of the great theory of retail revamping but also join us as Carol gives some practical options for Christmas displays and maximising retail opportunities.
6pm 18th October 2017. Soul Food
Carol B. - A Revamp Revolution! For 20+ years now I have been revamping, renovating, rejuvenating, revitalising retail & residential spaces. With a background in retail visual merchandising display & design, my passion lies in activating and transforming spaces. I work with my clients to bring their vision to life, producing beautiful & creative spaces, at the same time ensuring a practical and functional approach.
My work spans across retail, regional and residential spaces. Not only do I conduct revamps, I also run a series of creative and interactive workshops that help inspire those in retail & residential environments looking to make a difference to improve their space. I like to consider myself your 'Creative Coach', where often, I find my clients may already know what it is they'd like to achieve, they just need a little bit of help in shifting their creative compass moving in the right direction!

---
Register your Interest