What is a three bin service?

The three bin service will provide a weekly Food and Garden Organic pick up, a weekly mixed waste pick up and a fortnightly recycling pick up.
What are the three bins?
FOOD AND GARDEN ORGANICS (FOGO)

The organics bin is for any kind of food scraps (meat, fruit, vegetables, etc), garden waste (lawn clippings, prunings, etc) and even shredded paper, paper towel, serviettes and old pizza boxes. FOGO bins will be 240 litres and collected weekly. Click here for tips on how to use the FOGO service.
Council provides the green compostable liners free of charge to residents. If you require replacement liners please contact Council on 6889 9999.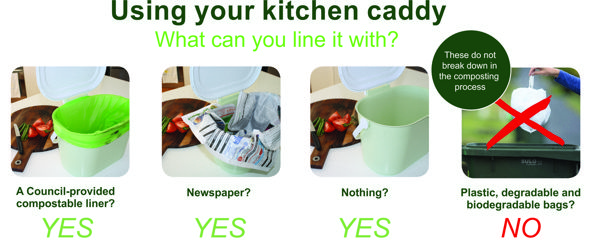 RECYCLING
Recycling includes steel, tin, aluminium cans, empty aerosols, clear, brown and green glass bottles and jars (no lids), plastic bottles and containers (numbers 1, 2, 3, 4, 5 and 6), cardboard, milk and juice cartons and newspapers, magazines and junk mail. Recycling bins will be 240 litres and collected fortnightly.
GENERAL WASTE
General waste is non-organic material such as nappies and sanitary waste, pet waste and kitty litter as well as household waste such as light globes, mirrors, ceramics, cookware and drinking glasses will still go in the bin. General waste bins will be 240 litres and collected weekly.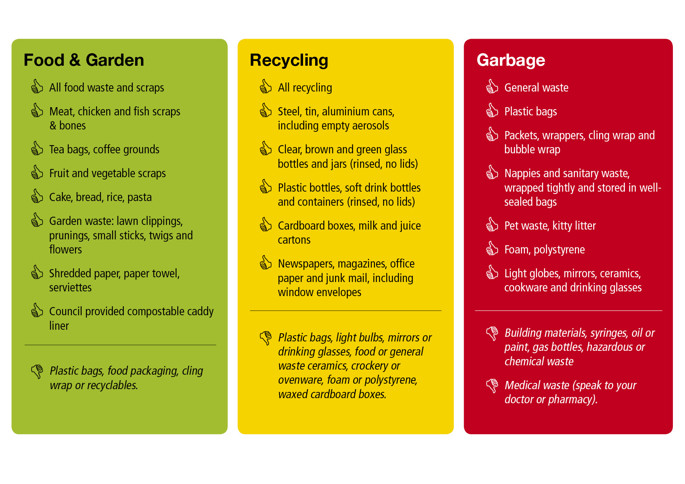 This project was supported by the Environmental Trust as part of the NSW EPA's Waste Less Recycle More initiative, funded from the waste levy.