Due to it's proximity to the Macquarie River, the Narromine township has parts which are flood liable. The Narromine community commenced planning for future flood events after the first known major flood in 1950. Since this time flood studies of the town have been completed and in 2009 the Floodplain Risk Management Study and Plan (FRMS&P) was adopted. This Study and Plan takes information from the predicted floods modelled in the Flood Studies and puts management plans in place and gives direction on future land uses and development according to flood risk.
The plan below shows flood risk precincts from the FRMS&P. This plan forms part of the Flood Policy for Narromine and is used when assessing applications for various types of development in these precincts.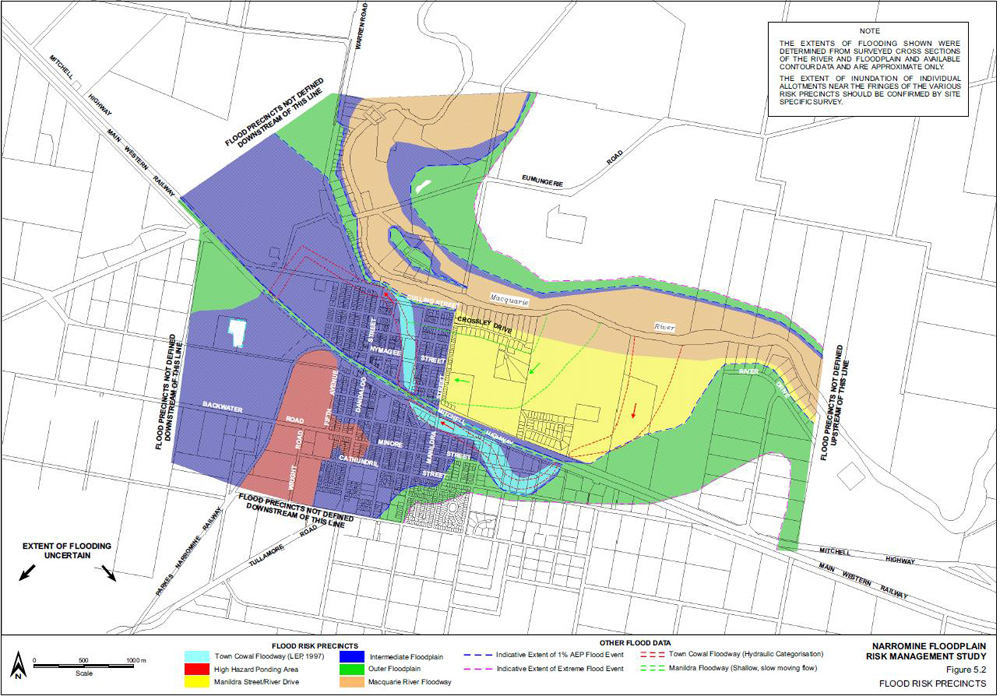 The Flood Policy for Narromine contains information and guidelines for those wanting to develop or use land affected by flooding. The ultimate objective of this policy is to reduce risk to life and damage to property caused by flooding. The policy has been written in accordance with the NSW Floodplain Development Manual 2005, by which all NSW Councils are required to abide.
If you would like to know whether a property is within a flood prone area you may search for the property on the NSW Planning Portal.
Alternatively, if you are planning to undertake development on flood prone land, you are encouraged to contact Council for advice on what development controls may apply.
Click on the link below to access the Narromine Flood Policy