SMART WATER DEVICES
Narromine Shire Council has delivered a renewal of its existing water meter fleet with smart meter technology across the Narromine Local Government Area for both residential and non-residential water meters
Now your smart meter device is installed, you (owners, tenants, organisations) will be able to monitor and manage your water consumption through the 'NSCWater' online customer portal.
This free portal will allow you to monitor your water usage (including daily, weekly or monthly reports), set alerts for potential water leaks or high use (via SMS or email) and track trends or inconsistencies.
How to sign up?
Visit https://nscwater.narromine.nsw.gov.au/
Before using the system, you will have to:
Register as a user. Click the 'Sign Up Now' button and provide your details to create your NSCWater account.
Confirm your account.
You will receive a confirmation email after creating your account.
Follow the instructions set out in the email to confirm your account and begin using your NSC Water account.
Register your property. After logging in, click the 'Add Property' button and provide the relevant information.
After advising your relationship to the property, the address and the assessment number, you can register your property and view your water use once approved.
If you are the property owner, Council will approve your registration, if you are a tenant or third party your property owner will need to approve your registration.
What is a smart water meter/device?
A smart water meter or device is an automatic meter reading system that automatically records water use, has the ability to electronically report water usage information at regular intervals and provides instant access to data that can show leaks, alert to unusual high usage (customers can set alarms in the customer portal), water theft, peak usage and other valuable network information.
Benefits of smart water meters include:
Facilitation of early detection of leaks
Enables customers to check their water usage daily
Allows customers to develop strategies to reduce water usage
Enables Council to respond more effectively to usage enquiries
How do I monitor my water usage?
Customers with a Smart Water Device will be able to monitor and manage their water consumption through the 'NSC Water' online customer portal. You can access the portal at nscwater.narromine.nsw.gov.au
Your smart water meter is still able to be read manually, find out more here:
Read the numbers from left to right.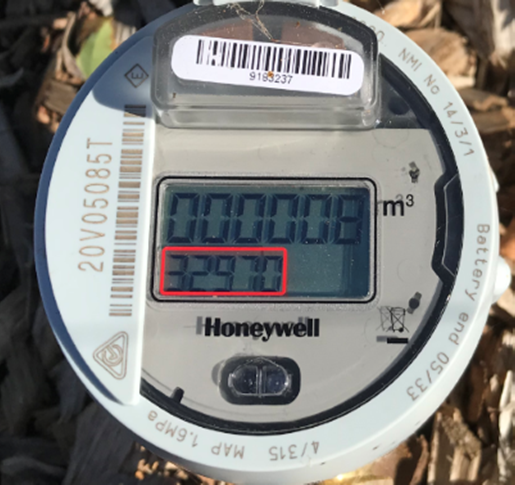 Top line displays Kilolitres. Reading shown is 8 m3 which is equivalent to 8 kilolitres.
Water consumption is charged per Kilolitre.
Bottom line displays Litres. Reading shown is 329.70 Litres.
The bottom line will change and display other images at intervals. This is displaying diagnostics.
You can check your property for leaks by ensuring no water is being used within your property. Check your meter and if the bottom numbers are increasing you may have a leak.
How do smart meters work?
The smart water meter device detects the water meter dial rotating and transmits the current water meter reading as a small radio signal. The information is then stored in a secure database managed by Narromine Shire Council.
How does the device receive power?
The smart meter device is powered by an AA battery. All the power used by the device comes from the battery.
Who is responsible for the maintenance of the device?
If you notice that your meter or device is damaged or in need of maintenance please contact Council's Customer Service and Payments centre on 6889 9999 or email mail@narromine.nsw.gov.au. .
How do I know if I have a leak?
If you have been alerted of a leak at your property by NSC Water, you should try to locate the leak as soon as possible. Some common leaks could be taps, showers, toilets, evaporative air conditioning and irrigation systems.
You may be able to repair the leak yourself or if you cannot find or fix the leak yourself, you may need to engage a licenced plumber.
If you have a significant leak you are able to turn off the water supply to your property by turning off the tap at your water meter which is usually at the front of your property. This will assist in reducing wasted water or any potential damage to your property until the leak can be repaired.
What do I do if my water meter or smart water device is damaged?
If you notice that your meter or device is damaged or in need of maintenance please contact Council's Customer Service and Payments Centre at 6889 9999 or email mail@narromine.nsw.gov.au.
Smart meter data
The transmission of water consumption data is made available for the benefit of property owners and for the purpose of automating meter reads. The analysis of this data can help Council identify inefficiencies in the water network and inform decision-making for upgrades to the water infrastructure.
Smart meters are not intended to govern customer's water usage but give customers a tool to self-manage their own consumption to conserve water and save money.
Owners can only view the water consumption on their own property via the online customer portal.