Council operates a three-bin kerbside waste collection service for the urban areas of Narromine, Tomingley and Trangie.
A one-bin kerbside waste service (Landfill waste only) is provided to the following zones in Tomingley: R1, R5, RU5, IN1, and B2.
The three-bin service provides a weekly collection for Landfill waste and Food & Garden Organics, and a fortnightly collection for Recycling.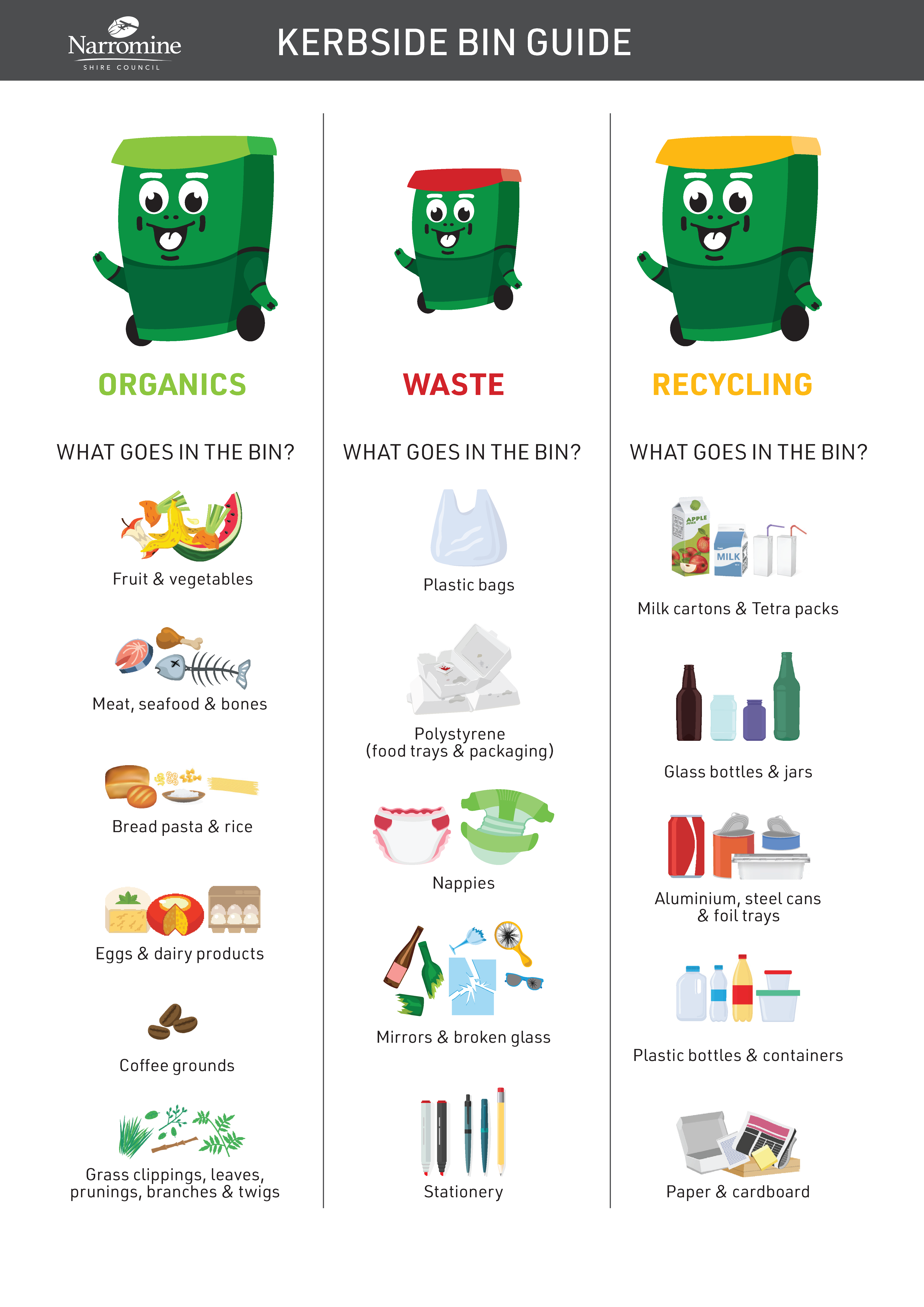 As part of the three-bin service Councils provides a kitchen caddy and ongoing free supply of compostable cornstarch liners to collect food scraps. Please do not use any other liner in this bin.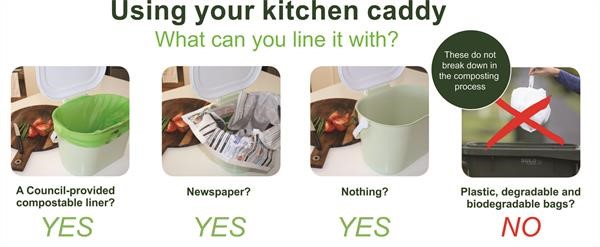 Contact council for replacement liners on 6889 9999.
Residents are advised that recycle bins CANNOT BE COLLECTED FROM THE LANEWAY and must be left at the front of the premises, either on the kerb or near the roadway.
Provision of bins
If you are a new resident or you have a damaged or missing bin, please contact Customer Service on 6889 9999. Bins must remain on the property when residents move.
Bin placement for collection
Ensure your waste and recycling is sorted into the correct bin (contaminated bins will not be collected)
Place your bins out the night before collection day
Place your bins at least 1m apart and clear of cars, trees and other obstacles
Make sure the lid is closed
Bins over 60kg will not be collected
What cannot go in your bins
Hot ashes
Bulky or heavy yard and builders waste
Chemical and liquids (e.g. solvents and paints)
Toxic, corrosive or flammable materials
Household Problem Waste (e.g. batteries, paint, fluoro globes)
For Household Problem Waste disposal, see EXCLUDED WASTE.
For residents outside Council's kerbside waste collection area, Council operates two Waste Management Facilities (Narromine and Trangie) and one Waste Transfer Station (Tomingley) within the Narromine LGA.